BRIANOVO ŽIVLJENJE
(MONTY PYTHON'S LIFE OF BRIAN)
Terry Jones, 1979
Britanska skupina komikov (no, plus Američan Terry Gilliam)je poleg nepozabnega TV šova Leteči cirkus Montyja Pythona posnela tudi tri celovečerce. Drugi je prav Brianovo življenje.
Komedija je parodija na Kristusovo življenje. Brian (Graham Chapman) je mož, ki živi v Judeji za časa rimskega imperija. Čeprav je sin Rimljana in "rahlo radodarne" Judinje (Terry Jones), se z mržnjo proti rimski nadvladi (Michael Palin) pridruži skupini People's Front of Judea pod vodstvom odločnega Rega (John Cleese). Vendar biti revolucionar ni lahko. Popisati mora obzidje ("Romanes eunt domus"), izvršiti ugrabitev poveljnikove žene in še marsikaj. Pri tem pa, čeprav nehote, da ljudem misliti, da je on mesija. In kot pravega mesijo tudi njega čaka čisto pravo križanje.
Ali bo Brian uspel s svojo vstajo proi Rimljanom? Ga čaka srečen ali nesrečen konec? Več v odlični komediji Brianovo življenje!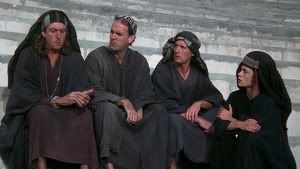 Judith: But why do you want to be Loretta, Stan?
Stan: I want to have babies.
Reg: You want to have babies?!?!
Stan: It's every man's right to have babies if he wants them.
Reg: But … you can't HAVE babies!
Stan: Don't you oppress me!
Reg: I'm not oppressing you, Stan. You haven't got a womb! Where's the fetus gonna gestate? You gonna keep it in a box?
Montyphytonska satira na Kristusa je bila že 1979 uspešnica, ostala pa je aktualna še do danes, tudi pri citiranju znamenitih, skorajda antologijskih dialogov. Pod producente te uspešnice se je podpisal celo slavni Beatle George Harrison, ki ga lahko ujamete v enem izmed prizorov. Verjetno ni treba posebej omenjati znamenite pesmi, ki so jo pod vodstvom muzikaličnega Erica Idlea peli na Chapmanovi pogrebni slovesnosti in si jo požvižgavamo še danes. Govorim seveda o slavni Always Look on the Bright Side of Life. Brez dvoma si jo tam gor prepeva tudi Brian – Graham Chapman.


Znamenita scena, kjer se "vedno gleda na svetlo plat življenja".