Ker sem spet pri volji za malce filmskega razgibavanja, nadaljujem
PRVI DEL
filmskih plesov. Pripravimo si dobro filmsko glasbo in se znorimo na parketu (oziroma kakršnihkoliže tleh), tisti bolj leni pa ste vabljeni na prvi ali ponovni ogled kakšne izmed omenjenih mojstrovinic.
Let's dance!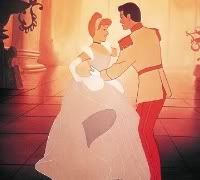 Pepelka in Trnjulčica
Začnimo z Disneyjevimi mojstrovinami, kjer je bil ples nepogrešljivi del njegovih celovečernih mojstrovin. Verjetno najbolj znani princeskasti ples je tisti, kjer sta se zaljubila Pepelka in njen princ.
So this is the miracle that I've been dreaming of … So this is love.
Med plesom na melodijo Čajkovskega sta se zaljubila tudi Aurora aka Trnjuljčica in princ Filip, vendar je njen ples s sovo in zajcema v škornjih veliko bolj zabaven.
I know you, I've walked with you once upon a dream.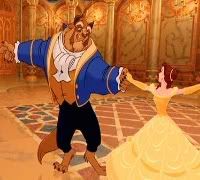 Lepotica in zver in Mary Poppins
Znameniti ples je pripadal tudi Belle in uročenemu princu, spremenjenemu v zver.
Tale as old as time, song as old as rhyme, beauty and the beast.
Plesali pa niso le narisani Disneyjevi junaki, pač pa tudi Dick van Dyke, ki je s svojimi spuščenimi hlačami konkuriral pingvinom ob zabavanju "praktično popolne" Julie Andrews Mary Poppins.
Oh, it's a jolly holiday with Mary, no wonder that it's Mary that we love.

Do nazga in Titanik
Nadaljujmo z odlično britansko komedijo Do nazga. Skupina odpuščenih delavcev se odloči, da bi za dober denar poskusila s striptizem "do nazga" po vzoru popularnih Chippendalesev. Kako je treba migati, jim pokaže vodja bande Gaz.
I believe in miracles since you came along, you sexy thing!
Ples je odigral pomembno vlogo tudi v romanci epskih širin. Leonardo DiCaprio in Kate Winslet sta se prepotila ob irskih plesih v podpalubju mogočnega Titanika.
So, you wanna go to the real party?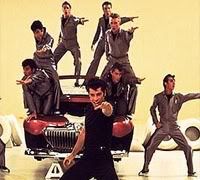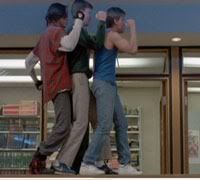 Briljantina in Prijatelji za vedno
Ni dvoma, da je v sedemdesetih na filmskem plesišču kraljeval John Travolta. Boki so mu švigali tudi v mjuziklu Briljantina.
Go Grease lightning, you're burning up the quarter mile.
Plesali so tudi "brat pack" v filmih Johna Hugesa. Kako se je plesalo v osemdesetih, so nam pokazali tudi kaznovani "Breakfast club".
We are not alone, you'll find out when your cover's blown.

Flashdance
Končajmo pa z eno izmed najznamenitejših plesnih scen na filmu. Čast seveda pripada plesnemu flicku iz osemdesetih – Flashdanceu. Zapomnili si bomo štanco Irene Cara, modo razvlečenih puloverjev in, seveda, vroči tuš na stolu.
Right now, ask me if I care, look, it's coming closer, oh I'll swear, he's got to be the toughest guy I've ever seen.
Da ne boste mislili, da zanemarjam naše legende. Danes me je šokirala novica, da je odšel v večna gledališča slovenska igralska legenda Polde Bibič. Večini bo ostal v spominu kot Kosmov Janez v zimzelenem Cvetju v jeseni ali pa kot malce nerodni ata Jože Malek v komediji Moj ata, socialistični kulak. Bil je tudi Bedanec v Kekčevih ukanah, Primož Trubar v istoimenskem TV filmu, občudovali smo ga tudi v filmih Ne joči, Peter, Vdovstvo Karoline Žašler, Boj na požiralniku …
Polde, počivaj v miru!